Our Patented Ice Dam Melting System
Gutter Helmet of Madison can install a hidden heated cable system with your gutter protection system that will help melt snow and prevent the formation of ice dams at the edge of your roof. Layers of ice can potentially cause injury as the sheets thaw and fall to the ground, but it can also cause damage to gutters due to the weight of ice on a gutter system. Our innovative Helmet Heat ice dam reduction system features a self-regulating conductive core that heats up only when needed, making it not only effective, but energy efficient as well.  This system can be installed as a zig-zag roof cable system or you can choose our most popular system; Helmet Heat.  The Helmet Heat system works in tandem with Gutter Helmet for year-round protection keeping leaves and debris out in the Spring, Summer, and Fall and also eliminates ice dam problems in the Winter months.
There are several benefits of choosing a heat cable or Helmet Heat system for your home, including:
Reduction of icicle formation on gutters and ice at the roofs edge
Cables are hidden underneath the Gutter Helmet preventing unsightly appearance of typical cables
Prevention of ice forming inside gutters and downspouts
Elimination of snowy buildup on gutters
The Heat cable can be installed with our Gutter Helmet gutter protection system,  which creates our exclusive Helmet Heat Technology. We can also install new, heavy-duty gutters for a complete gutter upgrade. No matter which products you choose, you can rest assured that the installation will be performed by a factory-trained technician with more than 1,000 installs to his name. We have an A+ rating from the Better Business Bureau, so we will always go to great lengths to ensure your complete satisfaction with our products and services.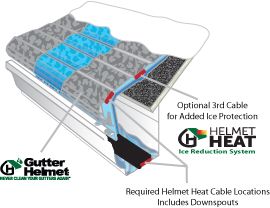 For more information about our gutter heat cable, gutter covers, or other products, contact Gutter Helmet of Madison today. We proudly serve residents in Madison and surrounding communities in east central Wisconsin.
The Helmet Heat self-regulating cable is designed for commercial freeze protection and residential roof and gutter applications. The self-regulating design allows for safety and ease of cut to length installation. Helmet Heat's highly engineered, conductive core increases its heat output when the temperature falls and decreases it heat output when the temperature rises.
The Helmet Heat system is designed to drastically reduce icicles that could form along the nose of the Gutter Helmet system. It also reduces the amount of ice that could form on the top of the system or within the gutters or downspouts in the areas where the Helmet Heat is installed. The system is proven to greatly reduce these problems and in some situations may completely eliminate them depending on the magnitude of the pr-existing conditions prior to the Gutter Helmet Installation.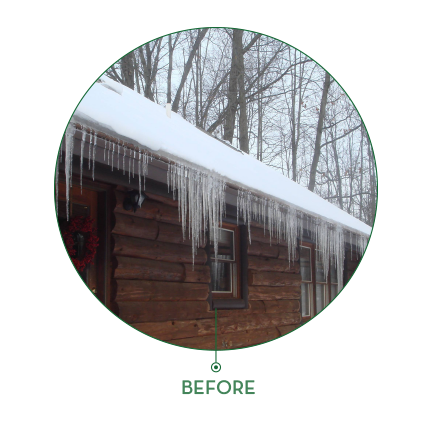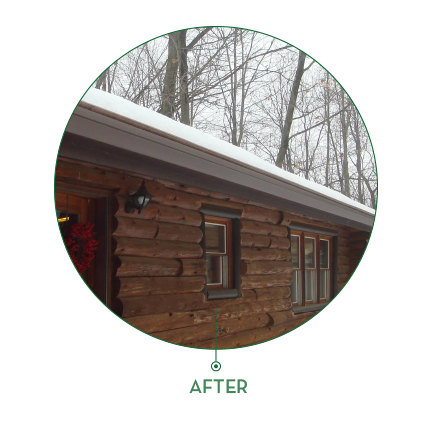 COMPLETE SOLUTION WITH GUTTER HELMET SYSTEM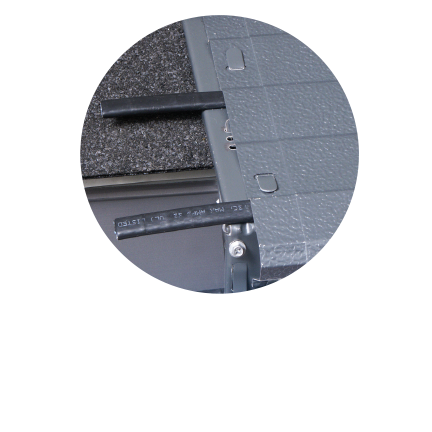 Benefits to having a Helmet Heat system installed on your home include:
Energy efficiency. Heats up only when needed.
Self-regulation. Does not require monitoring.
Safety. GFCI-protected, UL-listed and approved.
Material efficiency. Uses 50% less cable than
traditional heating cable systems.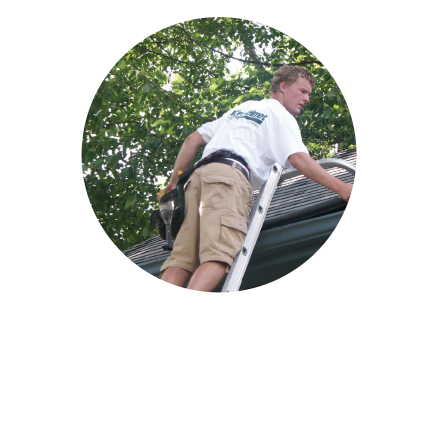 The Helmet Heat system is installed directly under Gutter Helmet gutter covers,
without visible roof clips or exposed wire. Helmet Heat can be mounted on any home
that uses the Gutter Helmet gutter protection system.
We can also set up both systems at the same time.